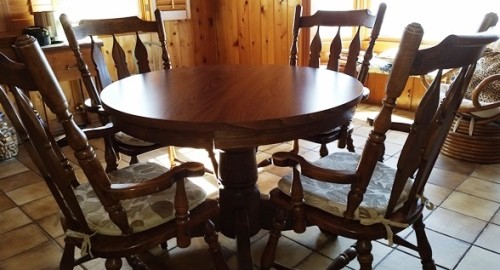 About a decade ago, I came upon "Nature abhors a vacuum" in a book on feng shui. It left a lasting impression upon me. If we resist this force of nature, we may gain control over the cycle of clutter in order to enjoy the unexpected gifts in life.
At this time, I needed to get rid of a number of classic-tailored suits. I no longer wore them because after years of living in a dry climate — the High Desert of Southern California — the finely woven wool fibers had shrunk significantly; yet, I couldn't let them go.
Isn't it funny how when we don't even need something, we insist on holding on?
That changed when a fellow caregiver and friend needed donations for the Children's Hospital fundraiser. Knowing these clothes were to be purchased by women who would recognize the finer quality details, I donated a half-dozen suits and other clothes.
The void in my closet provided relief. I no longer had the toxic reminders of what was not in my future — a body to fit in those clothes.
And while the force of nature pressured me to fill that void, I resisted. I bought two new outfits. I needed something to wear at speaking engagements!
Today, I consciously resist the urge to replace something I give away or discard. I try to live without it a while to see if I really need to replace it.
This past weekend, one of our living room tabletop lamps stopped working. My husband took it apart to try to fix it. We agreed it wasn't worth his time and tossed it. We considered buying a new one. Then, to fill the void with light, we experimented by moving two floor lamps. Amazingly, the new arrangement resulted in a much better effect with one less lamp!
What is it that compels us to give into nature's force and fill a newly created void? And why?
It turns out that Aristotle made this statement. Ahh, now that explains why we accumulate clutter! It's a physics postulate! And who can resist nature's law?
We can, if we try hard enough.
After all, with enough power, we defy the laws of gravity and enjoy air travel around the world.
We CAN defy the laws of physics.
When we resist the urge to fill a void whether it's physical, mental, or even temporal, we free ourselves to receive the unexpected gifts in life.
Unexpected gifts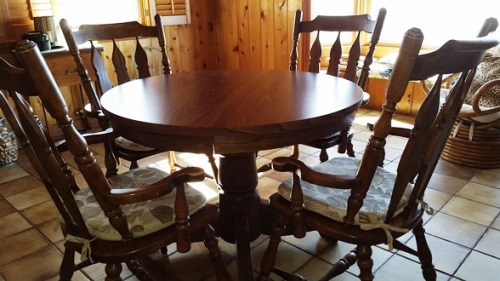 You may recall reading the part in STUFFology 101 about my husband's and my commitment to keep our kitchen table clear after we grew tired of having to clear a space to eat. Instead, we put our food on trays and ate while watching TV.
This is a photo taken on May 4, 2015 of our clutter-free table. And we took advantage of two unexpected gifts. First, we focus on what we're eating, which means we eat less. Instead of permitting TV to be a distraction, we take our time to enjoy meals we prepare together from scratch. Second, we're talking more, just as we did when we became a couple almost 38 years ago.
You may also recall the article that we cancelled our television subscription earlier this year, in order to have more time.
This means less temporal clutter. We have more time to catch up with the things that piled up while our attention was diverted to the TV. And there's no more mindless blur of daily entertainment that overloaded us with mental clutter.
As we consciously strive to defy Aristotle's (clutter) postulate, we'll have more time and energy to enjoy life's unexpected gifts. One such gift presented itself a couple months ago after I took steps to reduce the hours and days I worked each week.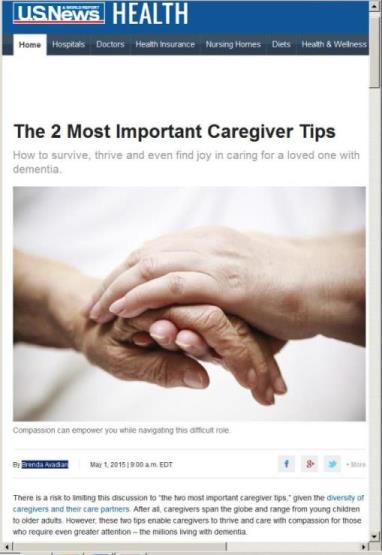 For almost twenty years, I worked 14-16 hours a day for 6-7 days a week. Last year, I began to take stock of my time and energy and reduced my schedule to 12-14-hour days. After facing some difficult decisions, I let go of several volunteer activities and reduced my work schedule even more.
This year, I'm working 10-12 hour days 6 days a week. This reduction left me with enough time and energy to accept an unexpected gift–an invitation to write for U.S. News & World Report.
This opportunity helps me to reach a wider audience with my message for caregivers. I would not have been able to accept this gift had I not cleared the temporal clutter in my life. Plus, I'm getting out more often to hike in nature.
What unexpected gifts will you invite into your life after resisting the urge to fill a void with stuff?