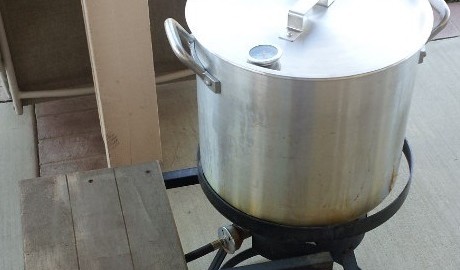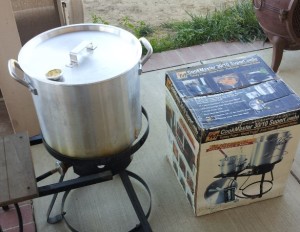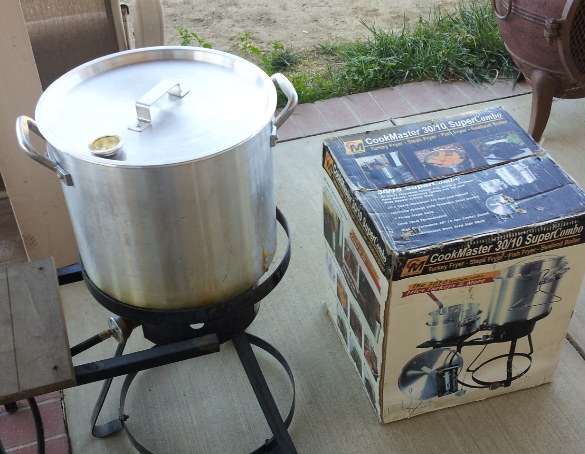 A Deep-Fried Thanksgiving
After Eric's turkey deep fryer lay dormant for many years, he let Brenda use it. This unexpected gift inspired them to write the following:
It's on clearance, what a deal!
A turkey deep fryer to cook our Thanksgiving meal.
Just season to taste with spices and such
A pinch here and there, not too much.
But it says some assembly required
How to do it? I'm too tired.
Years go by and it sits on the shelf
Taunting me like an underutilized elf
Waiting to be used for the big holiday feast
Bothering my wife not in the least.
We should use it when the family's in town
But it's still not assembled, I feel so down.
Brenda asks how a deep fried turkey might cook
I'm eager to try it, let's have a look.
She says, "I have a smoker to offer in trade
For your turkey deep fryer unused for a decade
"No, the fryer is mine."
"But if you wanna use it, I guess that's fine."
Plans are made to break it in right
With special oil and a bird that won't fight.
The big day draws near, how will it go?
Without some experience, there is no way to know.
Family and friends arrive to see
How a Thanksgiving bird is cooked for free.
The oil is hot, ready at last
Keep the temperature steady to cook it fast.
Anticipation and laughter fill the air
As we wait anxiously for our Thanksgiving fare.
The turkey is cooked and ready to eat.
The glorious meal is crispy and neat.
Making for a mouth-watering display
A great way to spend Thanksgiving Day!
You can view the one-minute YouTube video clips of how we prepared this turkey before it passed our lips. These fourteen video shorts show A to Z how fun cooking a turkey can be … maybe not for the turkey.
Deep Fried Thanksgiving with friends and family at
https://www.youtube.com/user/BrendaAvadian/videos.