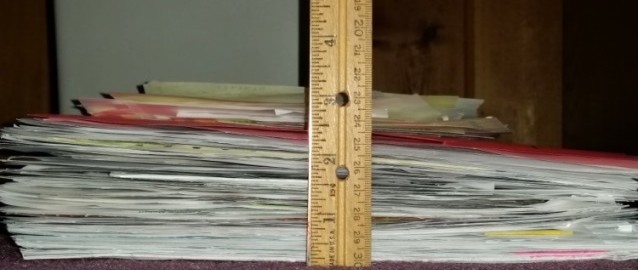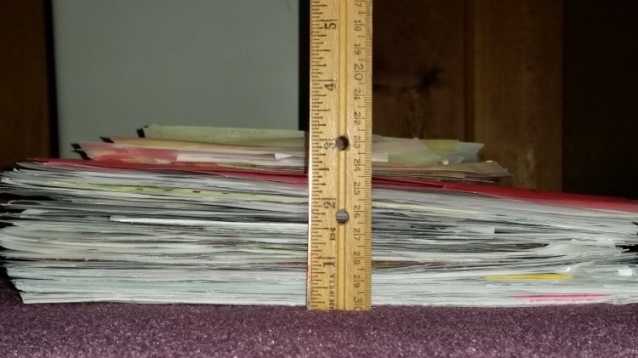 It's amazing what happens when we take steps to de-clutter.
With tax season coming, we've run out of space to file our paperwork.
My husband had removed older records from the filing cabinet, which made it so much easier to file current paperwork.
Now, the IRS requires us to save the last seven years of records. For some of us entrepreneurs, who file Schedule C's, that means lots of documentation.
What to do?
Store the papers in plastic containers or bankers boxes.
But there's no more room!
Okay, just buy another container.
Wait, that means MORE STUFF!
The time has come for us to do something about all this POOP—Piles of Overwhelming Paperwork.
Our once-every-three-year approach has resulted in a backlog of POOP.
Surprisingly, hubby agreed to sit down with me for two hours every Sunday, until we clear up more space. Hubby usually doesn't agree to such things; especially, when I want to take the time to reflect on our past, together. You may remember from the book, he's a "toss-it-all" kinda guy!
Yet, it's amazing what two people can accomplish by setting aside a little time each weekend, until we get the job done. The photo at the top of this article is one-week's carefully digested POOP that's now ready for the shredder. Imagine how much space we're creating in our storage container after several weeks of this!
What has happened so far has been unexpected.
I feel the relief in other areas of my life—in those other cluttergories that encroach on our daily functioning, without our knowing (or admitting) it.
I feel lighter.  I'm losing a few winter pounds, too. More importantly, I feel lighter, mentally (mental clutter).
Maybe that lightheadedness is a warning of something else!
Seriously, I feel less burdened by those nagging thoughts, like: When will I have time and the energy to get to it?
We're gettin' it done!
And I have the energy to move on.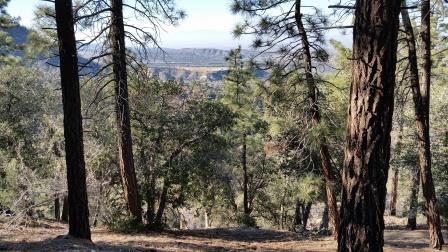 I've made the time to take more walks in nature.
Next, is the bankers box full of stock and options trades from years past. I actually, look forward to revisiting these records. Although, trading in today's market is vastly different (more speculative); I expect a goldmine of hindsight within those records—learnings that I may apply, today.
Maybe an article or two… or even a book! 😉
Tax season is here. What will you do differently?
To help you without adding to your paperwork, LISTEN to an audio edition of STUFFology 101.  🙂
For a related article click on: We need to declutter and archive statements more often.