STUFFology 101  is for those us who want to get the clutter out of our lives without being featured on reality TV. We can still use our bathroom, bedroom, and kitchen, but we harbor secrets.
Do you race around to pick up piles when someone's at the door?
Do you close the door to hide your stuff in the spare room?
Do you still have boxes to unpack from your last move a dozen years ago?
Are you unable to focus because your mind is so frazzled?
STUFFologists Brenda Avadian and Eric Riddle share four decades of experience dealing with STUFF–uhh, clutter. Inside STUFFology 101, you'll find FUN and FLEXIBLE approaches to get your mind out of what YOU DEFINE as CLUTTER.
Funny, serious, and humbling stories are woven with tips
to help you clear the toxic clutter out of your life.
---

STUFFology 101 was #1 on Audible.com in three categories over Labor Day weekend selling 7,000 copies in one day! Click on image to enlarge. It was Ranked #1 under Nonfiction in the Top 10 Audiobooks on Audible.com.
---

… 'stuffologists' Avadian and Riddle have spent a lifetime dealing with hoarding's little sister, 'STUFFitis,' the plague of accumulated clutter 'diverting us from our life's purpose and what we deserve.' Using their combined knowledge, they provide tips on de-cluttering your physical space, hard drive, and even your frenzied mind… Avadian and Riddle prove sympathetic guides, revealing personal stories…
(Click on image or text link.)    Publishers Weekly Review
---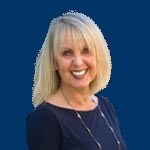 I read your book on my honeymoon, for heaven's sake! My husband did too. We really enjoyed it. Wanted something light, yet educational and inspirational. Your book was it!  …we both learned a great deal. Especially helpful re: technology clutter. Boy, you hit it there!
Dr. Nancy B. Irwin, PsyD, C.Ht., Therapist/Hypnotherapist/Speaker/Author
DrNancyIrwin.com
---
About the AUTHORS
BRENDA AVADIAN, MA author of nine books, was raised by a mother who could not say no to a free offer and a father who had "spare parts for everything." She broke the clutter cycle in her own life by learning to let go.

For more information, please visit About Brenda
"It's mine!" ERIC RIDDLE would say while holding onto his children's stuff for many years. Once he defined his clutter, he discovered that getting his mind out of the clutter is an ongoing process.
For more information, please visit About Eric
At the end of your life, what will matter most –
THINGS or PEOPLE?
Are you ready to manage the STUFF in your life?
STUFFology 101 Get Your Mind Out of the Clutter
SAVE: Order one for you and one for a friend.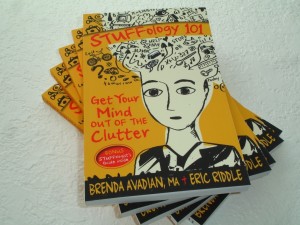 STUFFology 101 Get Your Mind Out of the Clutter
STUFFology 101 – Buy 2: 1 4 U + 1 2 Share (One for you and one to share)  $25 for 2 Free shipping
(U.S. Households Only)