By Brenda Avadian, MA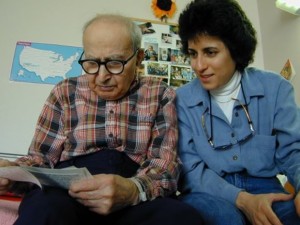 During the 1950s, while earning $100-plus a week, my father withdrew 10%  of his paycheck to buy U.S. Savings Bonds.
In 1996, after my father was diagnosed with dementia, my husband, David, and I returned to my childhood home in Milwaukee, Wisconsin where my father had lived for forty-five years.
We tried to help my father organize his paperwork, but everything was a mess and David and I had to go through it all. (I inherited this quality.)
We meticulously went through each file and pile. It was nearly impossible to determine what was important and what was not. We had to leaf through every piece of paper one page at a time, being careful not to overlook something—like a $1,000 U.S. Savings Bond tucked between two sheets of scrap paper or hiding in a one-and-a-half foot pile of newspapers. We found important documents, cash, and bonds. It was an overwhelming task that soon left us exhausted.
After lunch one day, I returned to the sunroom. I watched my father hunched over paperwork at his desk. He was organizing his bills. I sat in a chair by a bookshelf in the living room, only a few feet away from where he was working.
Soon, I grew bored and turned my attention to the books in one of the built-in oak bookshelves along the wall. Some were my father's German-language books from his bachelor years; others were reference books he used for his work as a machinist. Two hardcover books covered with brown paper bags grabbed my attention. I tried to decipher the rubber-stamped letters on their spines. Reaching out, I pulled one off the bookshelf. A little package fell on the floor. After looking quickly at the book, an engineering manual of interest to my father, brother, or husband, I placed it back and reached down for the package.
Three dry rubber bands bound an eight-and-a-half by three-and-a-half-inch packet. I scraped off the rubber bands and unfolded a letter-sized sheet protecting a stack of cards. When I turned them over to look at the front side, "1,000" caught my eye on the upper left and right sides. I looked at the card more carefully and read "Series E." It dawned on me—it was a thousand dollar U.S. Savings Bond!
What happened?
Click to view this 3-minute excerpt of Brenda Avadian's speech at a caregiver conference. You won't forget THIS story.