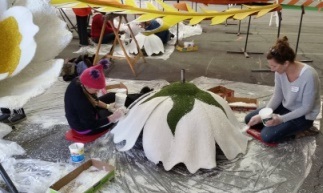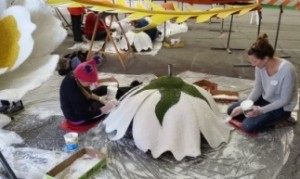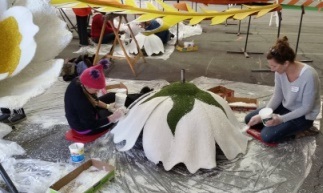 After 126 years, the Rose Bowl float decorators know how to prevent clutter.
My husband and I visited the first day of decorating (December 27) and watched with awe as teams of volunteers carefully trimmed just the right colored petals from dried flowers, while others added glue to affix aromatic coconut flakes onto gigantic flowers.
Everywhere we looked appeared like organized chaos. Is there such a thing? Many people doing different tasks in order to make something beautiful that nearly a hundred million people in over 120 countries will watch on New Year's Day.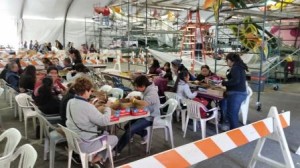 How do they coordinate all these floats?
With about 40 floats to decorate in three massive warehouses, how can each team keep organized?
Experienced volunteers return year after year to ensure the process goes smoothly.
Each float either had its own room for supplies, including glue and plant matter or an adjacent space with neatly stacked materials.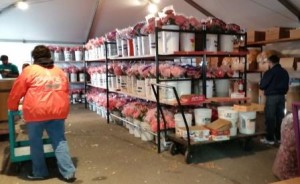 Each item is clearly labeled so that the coordinators can easily get supplies to the volunteers who trim and then apply dried flowers, petals, stems, leaves, and bark. They add fresh flowers, last. Discarded plant matter is removed immediately to prevent clutter from accumulating into a disorganized mess.
On New Year's Day those along the parade route, witness fragrant beauty of the floats. With the colder temperatures, this time, the flowers will stay fresher right through the two days scheduled for viewing, following the Rose Parade.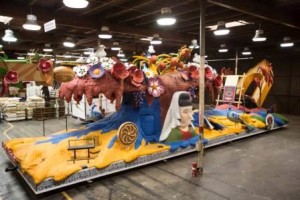 Finally, and on a personal note, I am happy to see the first float by the Armenian community debuting in this parade. See the photo to the left.
Armenia, the birthplace of my ancestors, was the first country to adopt Christianity (301AD). You can learn a little about Armenia's history and our language and symbols by clicking and reading this article: First American-Armenian Rose Float. (A larger version of the photo of the Armenian float appears in this article.)
April 24, 2015 is the 100th anniversary of the start of the Armenian Genocide; fortunately, my parents survived.
I plan to enjoy the 126th Annual Rose Bowl Parade on television Thursday morning, New Year's Day.
On the following day, my husband and I will drive down to Pasadena to enjoy the floats and to inhale the fragrant aromas of diverse flora that will gift us up close with unexpected gifts, indeed.