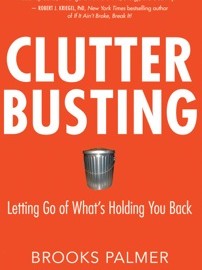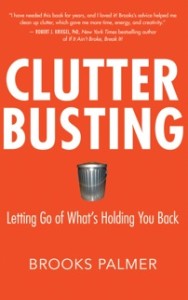 Clutter Busting: Letting Go of What's Holding You Back by Brooks Palmer (2009) remains one of those down-to-earth titles written by one who's served in the trenches of physical and emotional clutter. In fact, it remains one of the more psychologically insightful works on clutter.
Palmer writes (paraphrased):
75% of what's in our homes is clutter.
we should keep only those items, which make us happy and comfortable.
to de-clutter we need to remove clutter from where we currently stored it to the middle of the room where we can look at it with a fresh perspective.
A person with an impressive library of books may appear to have a problem with clutter. Yet, I believe that each person decides what is clutter. Although, I prefer less, I disagree with the "75% is clutter" figure that's been repeated in the media over the years. Unlike hoarders – the result of a disorder causing significant discomfort when attempting to let go of items including trash – clutter is more personal.
As for getting rid of items that drag us down or make us feel uncomfortable; what lessons will we miss by discarding these items based on an emotion we feel during one fleeting moment in time? If, on the other hand, we take time to reflect, we will learn to avoid getting into similar situations in the future.
Palmer has a gift for getting at clients' psychological struggles with clutter. He hones right in and helps his clients (mostly women) decide to take a new road without all those extra clothes that don't fit, collections of books, self-development tapes, pictures, and more.
In fact, the way he writes about his successes with clients is both hopeful and unnerving. As my co-author, Eric Riddle and I wrote in STUFFology 101: Get Your Mind Out of the Clutter, we hold onto some things without knowing why. What if Palmer persuaded us in that moment to let go and it turns out to be a mistake? As I read examples of Palmer's interventions, I kept wondering: What are his credentials? Does he have a degree in clinical psychology?
People can be successful without a degree; we've seen countless examples in business. Yet, it is my belief that higher learning enables people to better see the gray areas within bi-polar decision-making, often the standard in our industry. I'm tired of being forced to "use it or get rid of it." In fact, Palmer writes of something similar when he admits that he stopped taking photos after realizing that doing so removed him from experiencing the moment. While I agree, we need to balance preservation of a special moment with experience. After all, I've spent years working with families who live with dementia and Alzheimer's. That photo or unused object we should have tossed helps loved ones recall a precious life moment their brains can no longer conceptualize.
I prefer a more custom approach in dealing with clients. We hold on for our own reasons and one person's clutter is another's sanctuary. This is why I help clients define their own areas of clutter then work with them for long-term results.
Yet, among the books I've read in the de-clutter / organizing space, I feel drawn to Palmer's message. He offers plenty of nuggets to digest, especially when I recall needing to evacuate because a massive fire threatened our home. I stood in a room frozen with indecision.
Some of Palmer's exercises throughout Clutter Busting and the questions he suggests we ask ourselves will better help us to understand our relationship with clutter.
If I had to choose a book (besides STUFFology 101: Get Your Mind Out of the Clutter), I'd choose Brooks Palmer's Clutter Busting: Letting Go of What's Holding You Back.