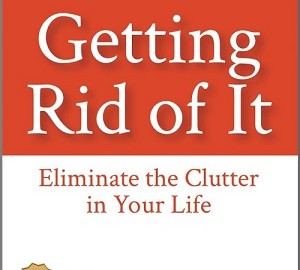 Getting Rid of It: A Step-by-Step Guide for Eliminating the Clutter in Your Life by Betsy Talbot and Warren Talbot (2012) offers a unique look at how to get rid of the physical clutter in your life. The authors are a married couple who decided to sell everything they owned so they could travel the world. Their advice on decluttering comes from what they learned during that process.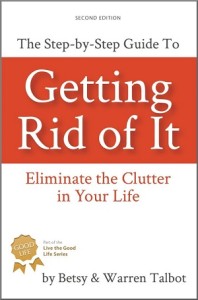 One sentence in the introduction sets the tone for the book, "We hate to break it to you, but you have too much stuff." The statement is not judgmental, rather it is given in the spirit of people who have lived with too much stuff. The Talbots offer many examples that the reader can relate too of how that is the case.
Getting Rid of It then gets into the steps of eliminating the clutter promised in the title. Each chapter covers a specific aspect or area of decluttering, starting with the mental preparation, which explains 5 styles of decluttering. I appreciated the Talbots insight here, "None of the methods are 'more right' than the others. In fact, the right one is the one that is easiest for you to do."
The book then gets into selling your stuff with many suggestions from Craigslist to yard sales. Since I prefer to donate my excess stuff, I enjoyed the ability to jump into another chapter that applied to my situation. The chapter on decluttering your garage/attic/storage building I found particulary helpful (click on my garage story: STUFF Happens!). Other chapters cover kitchen, home office, closets, and bathrooms.
Since our mental clutter can get in the way of decluttering, the Talbots chapter on sentimental value, dealing with the emotional attachment we assign to things, I found quite useful. Their view, "sentimental value is assigned by you…and if you don't already honor it, it isn't special."
The authors tie everything together with final notes on decluttering and share what they learned about themselves as a result of the process. Getting Rid of It is an easy to read book filled with actionable tips from people who have lived the process.
The eBook version of Getting Rid of It provides quick links to further information, as well as links to their other books and services. Depending on your perspective, it may seem like selling or just good marketing. For example, the Talbots link to their online course, Declutter Clinic, at the end of several chapters.
We researched different aspects about clutter while preparing STUFFology101: Get Your Mind Out of the Clutter, and continue to do so in order to see what else is working for people. Getting Rid of It: The Step-by-Step Guide for Eliminating the Clutter in Your Life is another book I can recommend to help you get your mind out of the clutter.