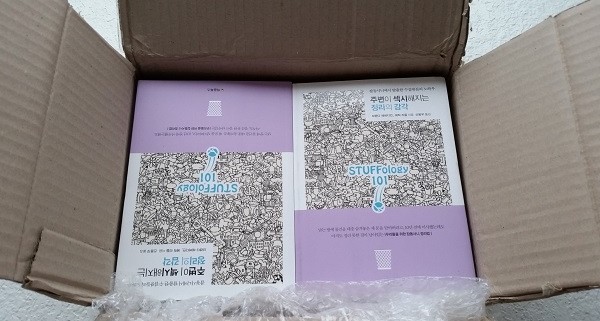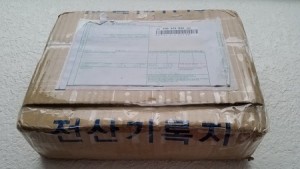 I had the pleasure of picking up a gift that arrived from South Korea, yesterday – a box of the Korean edition of STUFFology 101 – Get Your Mind Out of the Clutter.
As an author of nine books, I've had the pleasure of having books translated in German, Spanish, Korean, and Slovenian. It's always a treat to see how publishers of different countries handle the design and translation.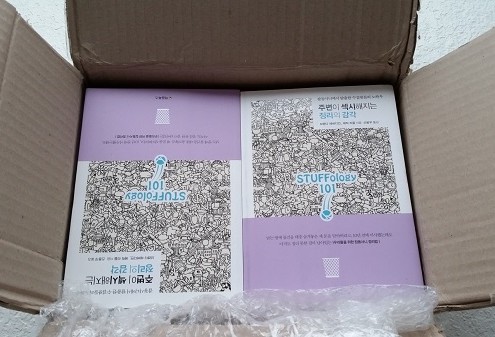 This is an exciting time for us. Imagine writing a book that people from around the world express interest in. I feel a little giddy with excitement imagining how my co-author, Eric must feel. This is his first published book, which became a top-selling title and it is now available in the Korean language. WOWEEEE!
What's next?
There's no telling what's around the corner. As we wrote in the Unexpected Gifts chapter of STUFFology 101, if you keep working toward your goal, you never know which unexpected gift will come your way.
That's what happened with this edition. We exhibited copies of STUFFology 101 at the Frankfurt Book Fair through the Independent Book Publishers Association. Although more publishers and agents expressed interest in this title than my previous books, the world's economy remains tenuous and no deal was forthcoming. However, unknown to us, Cheombooks, a publisher in South Korea was searching for books on Amazon when they discovered STUFFology 101. And here we are!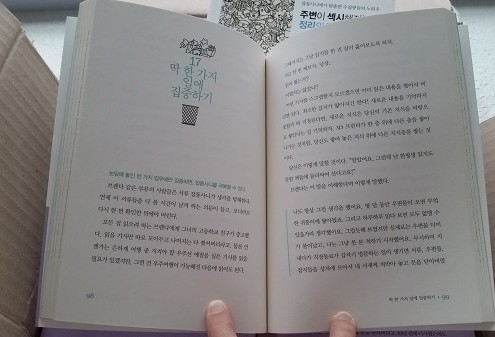 All we can do is focus on helping you and who knows what's next.
How about a little serendipity? I opened the book and paged through until I found a nice image of the inside pages I could share. What did I choose? Chapter 17 – Focus on Doing One Thing.
In our demanding, multi-tasking, and fragmented world, the best road to success with S.T.U.F.F. is to Start, Trust, Understand, and FOCUS in order to Finish.
Will you JOIN us?