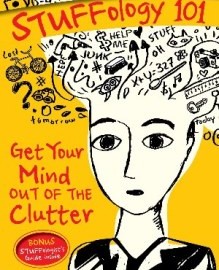 Do you have a book inside you? Most people would say yes.
Writing a book has been a great experience for me. Putting yourself out there for everyone to see is a worthwhile endeavor. But receiving feedback from people can be a challenge. Few of us enjoy criticism, even if it for our own good.
During the editing process, feedback can be brutal. But it gives the author time to incorporate the recommendations of the editor. In the end the book is better from this process.
Book reviews are different because the process is over, the book is complete. But the feedback is still important. For me a review is like looking in the rearview mirror when driving a car. It is an opportunity to see where I have been.
We all have our own views and perceptions of clutter and life. Reading what someone has to say about STUFFology 101: Get Your Mind Out of the Clutter is both exciting and scary. I enjoy learning how people benefited from our work, which is exciting. After all, we wrote the book to help people get their minds out of the clutter! My ego wants people to love the book, but it is impossible to please everyone, which is a little scary for a first time author like me.
Negative feedback is also important because it challenges me to see things through the reader's eyes. That person's perception of what we wrote in the book may not be what we intended to say or even actually said. Perception is reality to each of us. That too reminds me of a rearview mirror because it is behind me, I can't change what the reviewer wrote.
Earlier I asked if you have a book in you. If you do, then write it. It is a great experience.
I have another question for you. Do you have a review in you? Reviews are important to authors, both for the feedback to improve and to help sell books. If you have read STUFFology 101: Get Your Mind Out of the Clutter, then please write a review.
If you haven't read the book, then please BUY it and write a review. It is available from many retailers.
Here are a few of them:
As you can see, the book is available in multiple formats to suit your preferred reading method.
Do you have a review in you? I hope you say yes. Thank you.