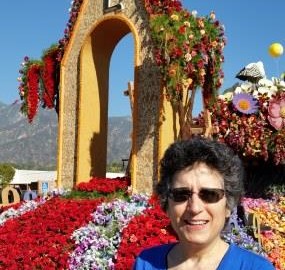 Photos, PHOTOS, when do they become Digital Clutter?
In STUFFology 101, we write about digital clutter the kind that harmlessly takes up residence on your smartphone, tablet, or hard or external drive. On the cluttergories page, we define digital clutter as anything in virtual form—such as photos stored in our computers, a backlog of emails, or too many social media accounts.
When do digital files turn into clutter?
When they're on your mind in the wee hours of the morning and late at night.

When you realize after saving all this STUFF you can't find what you need when you need it.

When you don't even remember having some of this stuff!
When you decide you need to do something about them.
When you keep saying, I'll download this stuff off my smartphone onto my computer so I can finally write about it.
WOW, sounds a lot like mental clutter!
AHA! There's no better reason right now, to download these digital photos off my smartphone. This article is scheduled to be published the following day and I want to add some of my post-parade float photos. Also, I like to organize my smartphone photos in labeled folders on my computer.
Lucky you! You're in for a treat.
Remember when I wrote the article about the (click on) Rose Parade Float Decorating – No Clutter? Well, the reality is you won't care about the Rose Parade Floats in July. But you may still want to read about digital clutter and enjoy a few of the post-parade float photos I took. Right?  Please say, YES.
I came upon the following. Although, my initial source at The CHIVE didn't cite its source of information, this is entirely plausible.
Every two minutes, we take as many photos
as all of humanity took during the 1800s.
In 2014 alone, humanity will take 880 billion photos.
That's 123 photos for every single human on earth.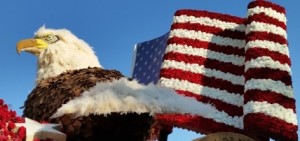 As with any kind of procrastinating, which also leads to clutter, the actual deed took less time than I thought the task would require. Five minutes was all the time needed to download 38 photos and 3 videos; plus, another five minutes to download a few other photos and file them. I was on a roll.
The next morning, I opened my Rose Parade Floats file and began choosing which ones I wanted to share with you. While working on this, I also labeled the photos while choosing my top picks.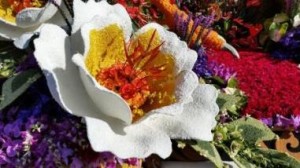 There are too many to share; so, I further limited my initial selection to four, which include the completely decorated flower the float decorators were working on in my earlier post.
The deed is done.
No longer do I concern myself with downloading my float photos. I've labeled them so I may use them later as appropriate. And I feel better about eliminating this one cause of mental clutter.
Before I close, I want you to know that next week, the second Monday of the year, is National Clean off your Desk Day. Getting rid of the potential for digital clutter, gives me a head start on my virtual mobile desk. I've cleared part of the gallery of photos on my smartphone, filed them in appropriate folders on my computer, and now feel the momentum to keep going… while the clutter waits and WAITS.
How about you? What kinds of clutter are you dealing with?