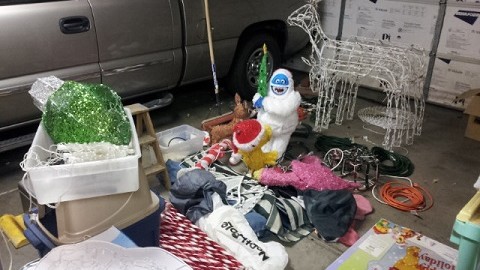 I enjoy lawn decorations as part of our Christmas décor. My daughters have helped me with set up and tear down of the various decorations over the years. Traditionally, we start setting them up the day after Thanksgiving. Then we start to remove them the day, or at least the weekend, after New Year's.
2015 did not follow the traditional program. Family activities kept us from taking the decorations down as usual. I watched with growing anxiety as each neighbor removed their decorations. One by one the front yards on our street returned to normal. I could feel the uncomfortable stares at my front yard as another day passed. The unspoken commentary "Why his decorations still up? Christmas is over, and so is New Year's. What's his problem?"
Not being able to take down my decorations was becoming more stressful daily. Finally, the second weekend of January arrived. But my helper was sick; my youngest daughter was unable to help me with the decorations! Her older sisters no longer live at home and my wife does not get involved with the outside décor. Just as I walked outside to begin my task alone, it started to rain. Really?
The weather slowed me down and prevented me from neatly storing each item as it was removed from the yard. Instead I rapidly piled items into the garage every which way.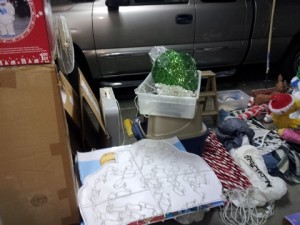 Who wants to spend all day in the rain? I was sufficiently damp to go inside and warm up once the yard was cleared.
Hours later, my task complete, I was tempted to go around the neighborhood knocking on doors and say, "See that, my Christmas decorations are down! Ha!" But I did not do so and neighborhood peace prevailed.
Satisfied, I relaxed in the house for the evening. My smug satisfaction was shattered when my wife asked, "Why are the Christmas lights on, I thought you took the outside decorations down today?" Clearly the rain disrupted my normally thorough decoration removal process!
Still, I learned a few things about Christmas clutter.
The lawn decorations became clutter for me once the New Year's weekend passed. Done is better than perfect, I finished removing the lawn decorations and got them put away neatly in the garage. The house lights will come down this weekend when my daughter is healthy again and can hold the ladder for me. Allow for flexibility when you start a project and don't beat yourself up when it does not go as planned.