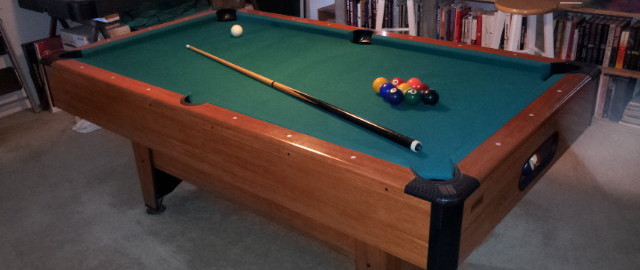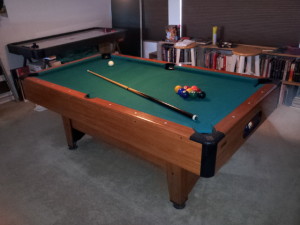 I can play pool now that we moved that stuff,
Into Beth's room temporarily, looking pretty rough.
Not actually a solution, but it works for now,
Need to figure out a better way somehow.
But now that room is a mess,
Causing me grief, I must confess.
Procrastination only increases the clutter everywhere.
I prefer a clean house, I really do care.
Sort it I must, that clutter must go,
How long will it take? There is no way to know.
Until we start going through each box with care,
It will sit unused in her room, so unfair.
There is stuff I don't need that others can use,
Just like that new pair of baby shoes.
Donate with purpose, and do so with haste,
These things should not be sitting here going to waste.
Slowly but surely the bedroom is cleared,
Sorting through stuff is easier than I feared.
We can use this room for guests, and play pool too,
I would have de-cluttered sooner if I only knew.
Finish what you start to keep clutter at bay,
Just do a little bit when you can every day.
You'll be glad you did, feeling light and free,
Staying clutter free is the way to be.
To see the pool table before it was cleaned click on: Why can't I play pool?